Frank Ramirez was our guest for our second Road to SALT webinar. He came with a bag full of knowledge (literally) in order to help us learn how to livestream Sundays with confidence.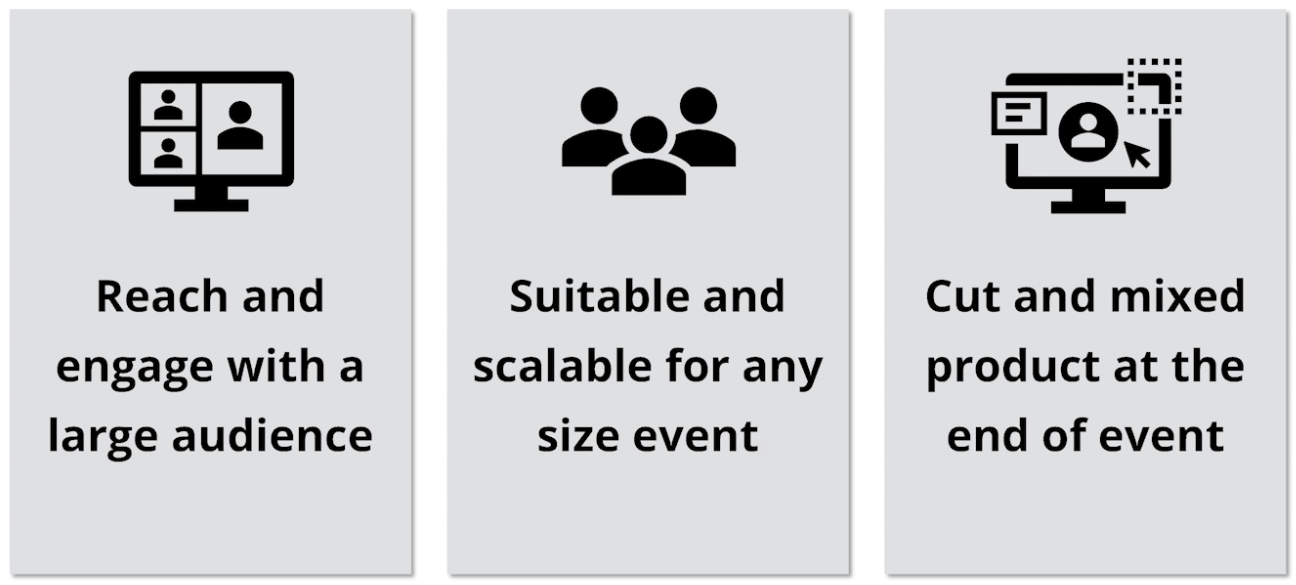 Reach and engage with a large audience
You can reach those outside of your immediate vicinity and across the nation and globe. Virtual streaming also gives you an opportunity to engage with them.
Suitable and scalable for any size event.
You can start with a simple 1 camera production and scale up as needed. As your audience grows, your physical space doesn't have to.
Cut and mixed product by the end of event
If you record your livestream, by the end of show you'll have a cut and mixed product that you can then share, post, or archive without any additional work needed.
Gear Up For Your Livestream
Need a basic list of gear and equipment to pull off your livestream? Here's a simple look at the different departments and what they'll need:
Camera Dept
Camera(s)
Tripod
Batteries
Memory Cards
Video Connection (HDMI or SDI)
Production Dept
Switcher
Monitor/Computer
Audio Connection
Walkie-talkies/Comms
Engineering Dept
Cables, Cables & Cables!
HDMI, SDI, XLR, USB, Converters
Power Supplies
Wifi
Stream Dept
Site Access
Stream keys for each platform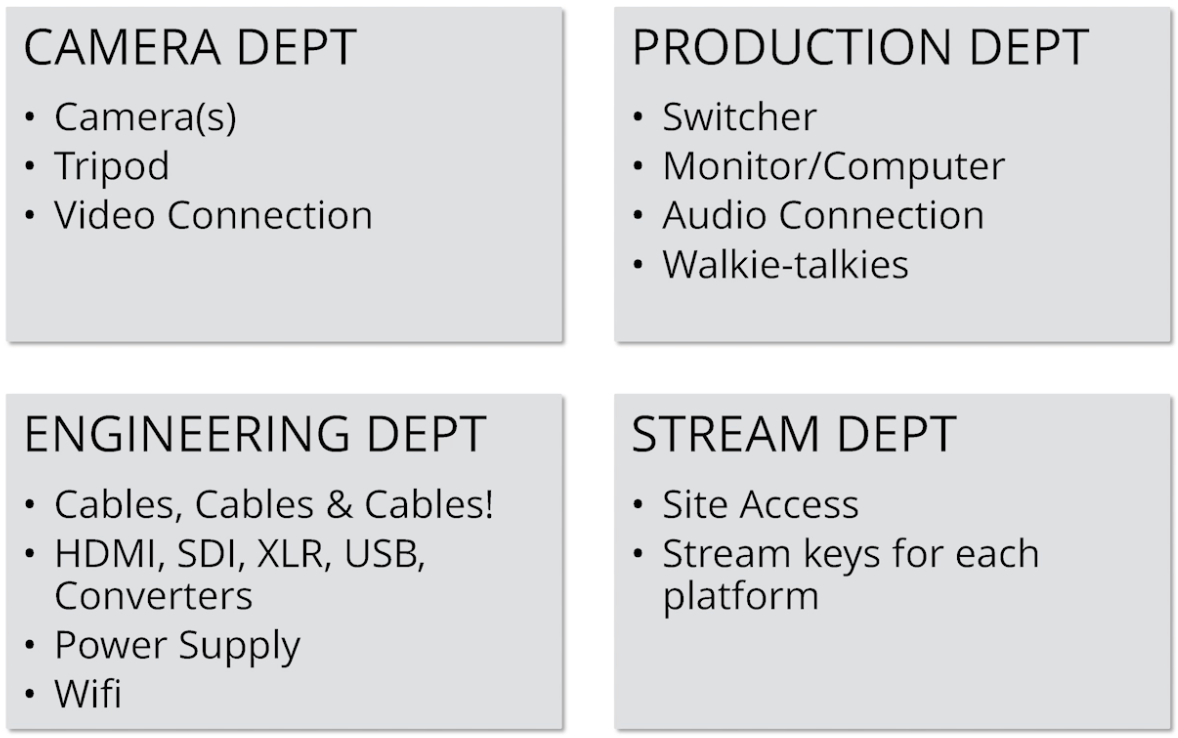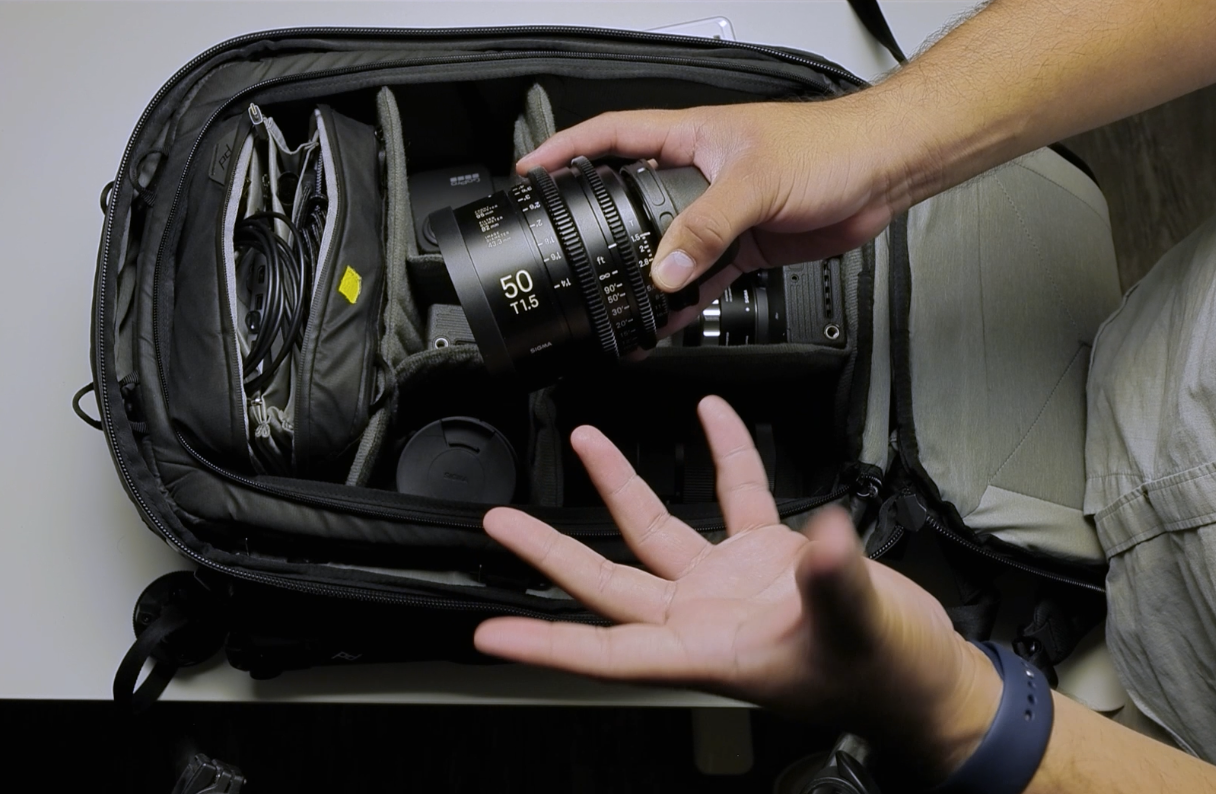 Livestream Configurations & Layouts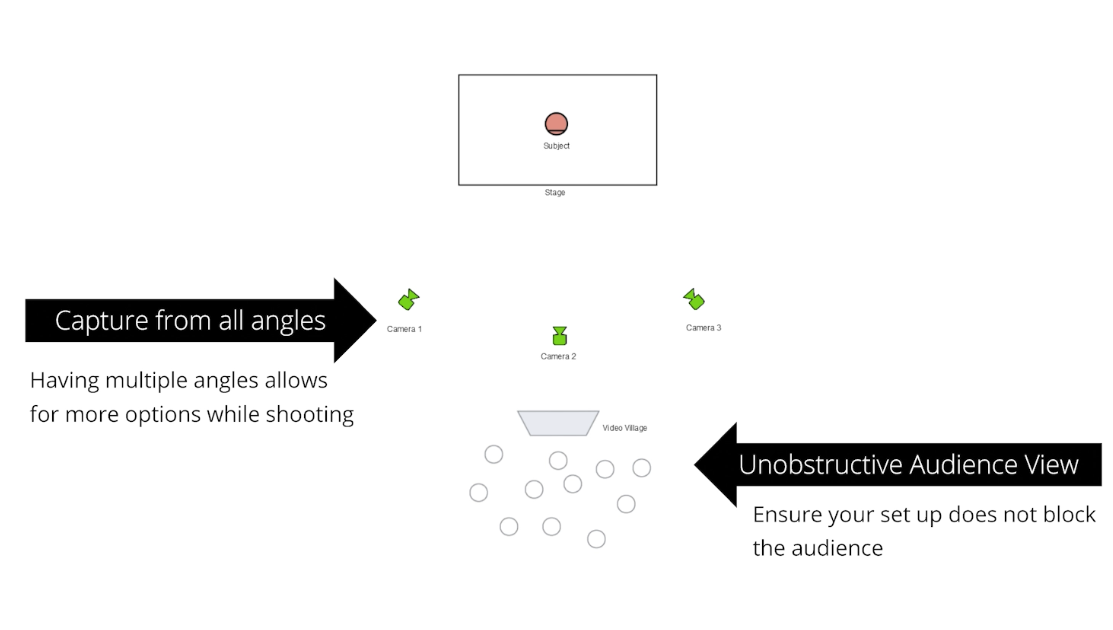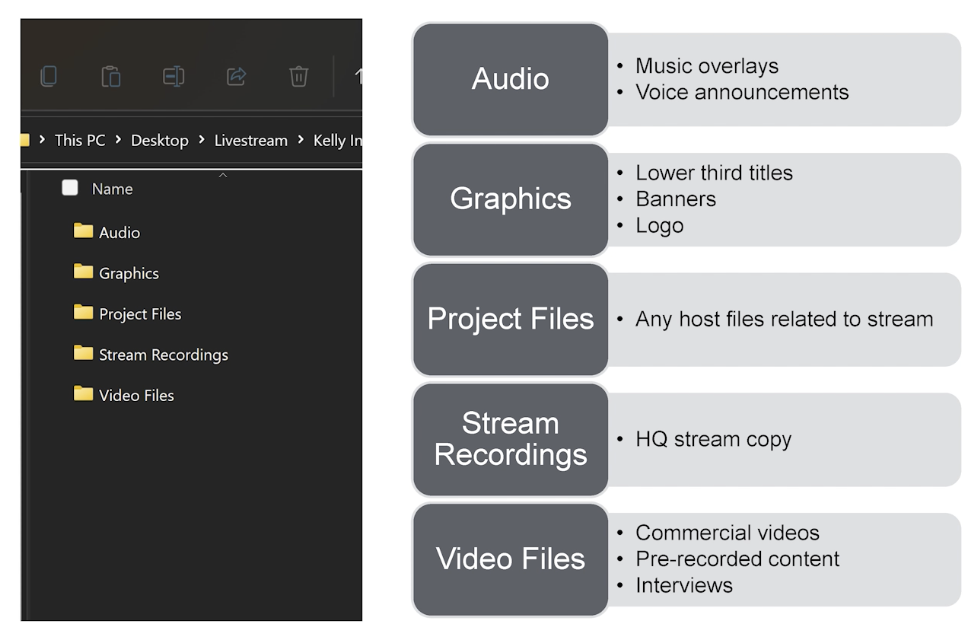 1 Camera
Simple and efficient
Most economical
Can cover simple services, banquets, or anything with little to no movement
3 Camera
Classic and effective
Creates an immersive experience for the viewers
Can cover everything from sitcoms to concern performances
When configuring and setting up your layout, don't forget to consider data management. You want to stay as efficient as possible. Pictured is a basic five folder structure to help keep you organized and save you time and stress. This is a good foundation but you can customize and add to this depending on your needs. Again, this is to help you and your team stay efficient and organized when files start flying.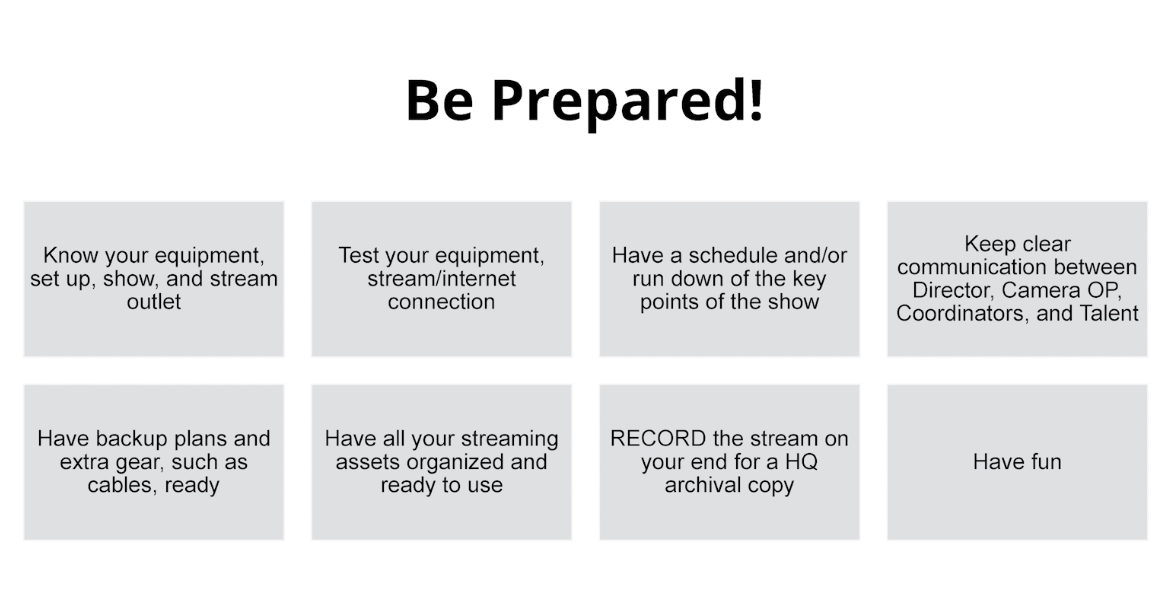 Being prepared is the #1 way to avoid mistakes and hiccups from occurring during your livestream. A few steps in being prepared are: knowing and testing your equipment, having a schedule or 'run of show', keeping clear and consistent communication among your team, having a backup plan, and having your assets organized are all great ways to be prepared. Oh, and of course, HAVE FUN!
Also, try following this checklist for technical directors:
Go over show schedule
Test connections to switcher/computer
Check assets
Check internet connection speeds
Test stream with unlisted stream to outlet
Run com checks and organize team
Settle crew for show start
BREATHE
GO!!!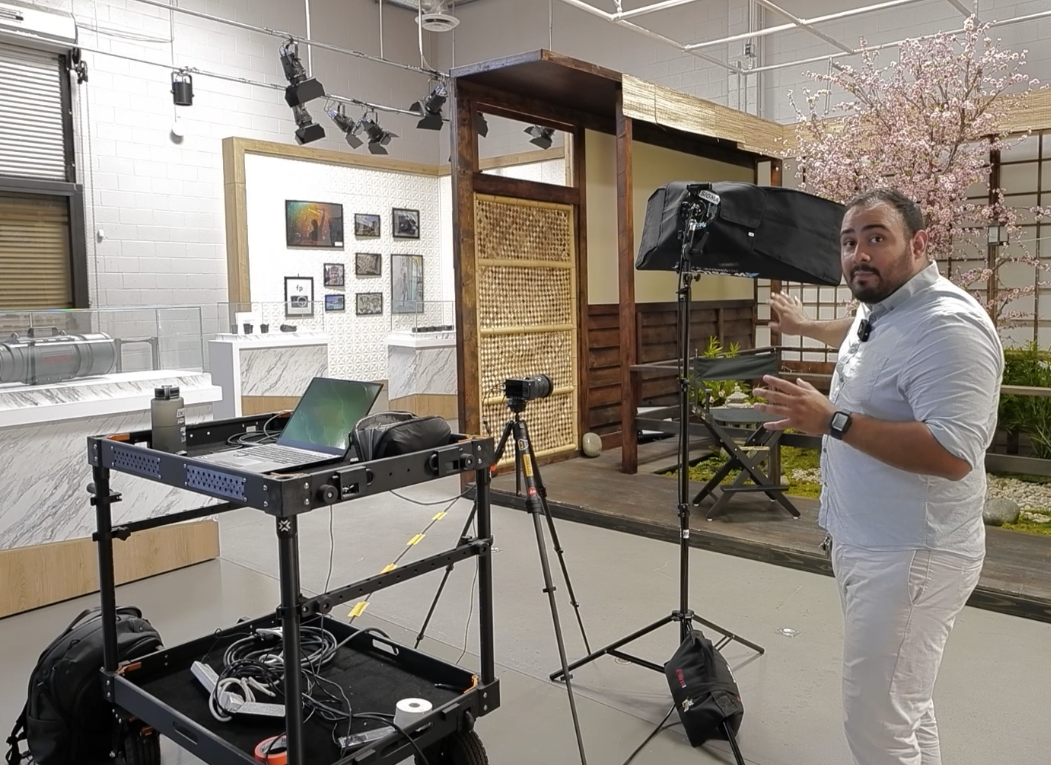 Audience Q&A
Q: How do we know the distance we need to have from our subject to the stage to the cameras?
A: There are a lot of examples of when lenses can do online, but ultimate the best way is to be in the space yourself with your equipment. You want to be fairly close to the back to that you're not in the way of the audience.
Q: How do we get better stream quality?
A: There are two main factors: your internet speed and your bit rate. A better bit rate equals better resolution. Both of these will affect your quality.
Q: How do you determine pacing? Changing camera shots, etc.
A: A general room of thumb is between 5-10 seconds per shot. Often times you need to base it on what's happening on your stage. A heartfelt or big point being made by your speaker might mean a longer shot. Worship or hype moments can be quick and snappy.
Q: What's the best way to test a livestream?
A: Before going "live" make a separate and unlisted version. This allows you to still share a link to tech teams if needed, but you can go live, see the stream, and all without it being available to your upcoming audience. This is also a great opportunity to do a full rehearsal for your livestream team.
Resources: saltcommunity.com/webinar-resources