The communications conference
for the entire team.
SALT Conference • Oct 9-11 • Nashville, TN
A communication conference
for the entire team.
SALT Conference • Oct 9-11 • Nashville
"It was my first year attending and I'm confident in saying that SALT Conference has changed my life. I left feeling renewed and energized. This is the best conference I have ever attended."

"It was awesome to see how SALT knit our team together and fortified us more as a unit. I feel we are able to more openly and freely communicate where we are at, what we're feeling and dreaming about."

"I truly felt like these were 'my people' as Luke said from the stage. SALT helped me see my passion to use my gifts to further God's Kingdom."
The following churches and brands have supported & attended SALT as a communications conference:

Why SALT is the best communications conference for you and your team:
40+ sessions to make you better at what you do in design, social media, strategy and more!
Sessions to help you learn how to develop your most difficult volunteers.
Classes that provide a playbook on changing the status quo in your ministry.
A variety of vendors showcasing the latest technology for the church.
Main sessions that help you eliminate burnout and increase purpose for your team.
Worship environment from world-class worship leaders so you can worship without working.
We creatives are a special breed, feel understood and find community at SALT19.
SALT Conference is the MUST ATTEND communications conference for you and your entire team!
Nashville, TN. October 9-11, 2019
REGISTER NOW!
SALT19 Conference Speakers & Leaders
Whitney George
Lead Pastor,
Church on the Move

Joseph Sojourner
Creative Dir & Pastor,
North Point Community

Ian Cron
Pastor, Songwriter, Author
& Enneagram Expert

Dennis Choy
Comm & Tech Pastor,
North Coast Church

Dakota Diel
Cinematographer,
National Football League

Johnny Stephens
General Overseer of Marketing/Media,
Mount Zion Church

Jay Kranda
Online Campus Pastor,
Saddleback Church

Stephen Brewster
Creative Pastor &
Communications Coach

Jenni Catron
Church Executive &
Leadership Coach

Phil Bowdle
Author & Creative Pastor
West Ridge Church

Darrel Girardier
Digital Strategy Director,
Brentwood Baptist

Emily Mills
Author &
Illustrator

Gary Molander
Author, Pastor &
Founder, Floodgate Productions

Jeff Hampton
Video Editor/Filmmaker,
Gateway Church & Musicbed
Featured Communications Conference Workshops: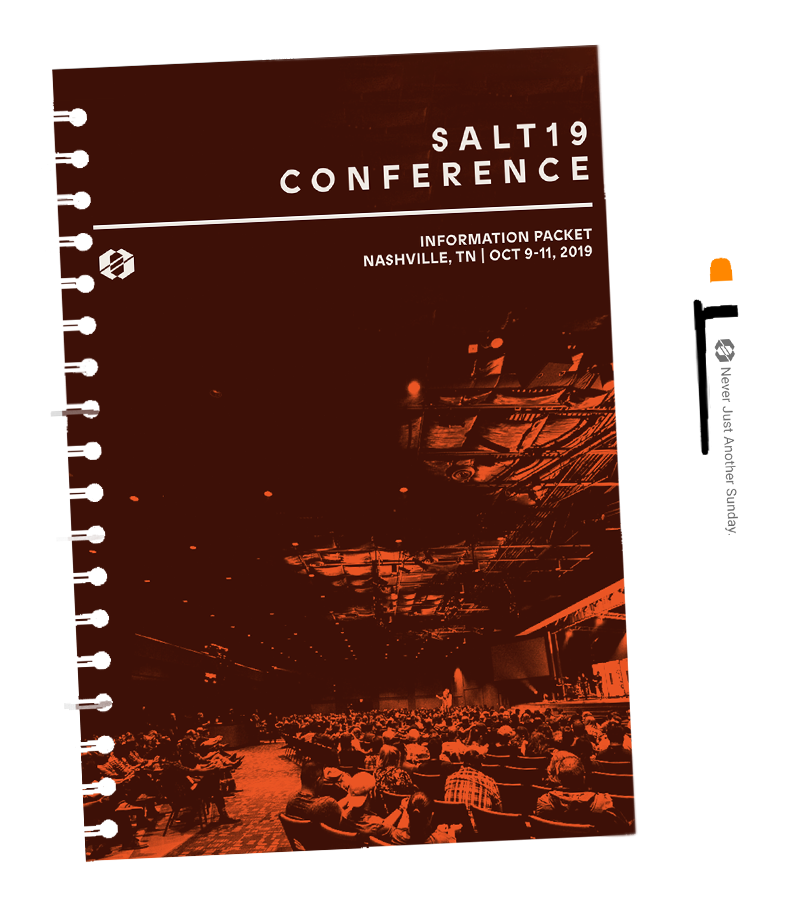 Still not sure but want more information? Simply fill out the form below and we'll send you some more details about SALT19 Conference.

#SALT19 is produced by SALT Conferences, a division of Orange Thread Media, LLC.
Nashville, TN – October 9-11, 2019
0
0
0

#SALT19 is produced by SALT Conferences,
a division of Orange Thread Media, LLC.
Nashville, TN – October 9-11, 2019