"A goal without a plan is just a wish." – Antoine de Saint-Exupéry  I have been working with SALT Conference since 2015 and during that time I have learned a lot about conferences, schedules, contingency plans etc.  Our conference has gone from speakers not making their flights, to chair setups being completely wrong, to rain and the list goes on.  My goal with this post is not to give the 10 steps to just planning an event, my goal is to help you craft a list of questions, based on situations we have encountered, that will hopefully help you manage some of the unknowns you may encounter.  Check out these 5 things you should consider when planning an event for your church.
1
Flow
From registration to food, planning flow is important.  When planning how registration will work, we ask questions like how long will it take to register everyone, do we have enough people and the right equipment to cover the number of attendees in the time allotted, how will the line form?  When it comes to food, we have to ask where will people sit, how are they going to get their food, will a food line cause a cluster and move slowly etc.
An example of food flow came from SALT16. During the lunch, we had some scheduling logistics that required us to get everyone seated prior to getting their lunch.  Because of this, we had a vision of serving all attendees while they were seated at their tables. The end result, we were able to cover 100 tables and serve all tables (8 people per table) with a Chick-fil-a box in under 10 minutes.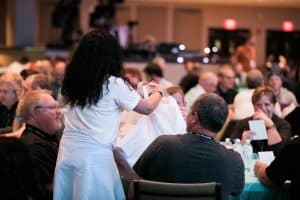 So how did we accomplish it?  We went through many scenarios, looking for problems and then trying to figure out how to overcome the problems.  For instance, one problem we outlined was the idea of getting individual boxes to the tables.  Juggling 8 boxes isn't an easy task and we didn't have enough rolling carts to cover everyone quickly, this is where the bags came into play.  In addition, we realized to pull this off we would need the help of volunteers. We had packers, we had deliverers and we had floaters checking to make sure every table was served.  It worked flawlessly and we did it in less than 10 minutes.
2
Over-communicate
I have heard it said "it is better to tell someone something they already know than to not tell them something they needed to hear."  Communication via a digital means, like email, must include the most mundane details.  Typically about 2 weeks before the event, SALT will send an email to all attendees with very specific information on details for the conference.  The details may seem silly but when an attendee is coming to a location they know nothing about it is so important to "over-communicate."
We go through where to park, when to arrive, what they can expect when they get on campus, specifics on registration like will they need a physical copy of their registration or can they just give us a name, should they eat before they come or will there be food on-site.  These are all questions we have been asked or assume could be questions so we address them in the email that goes out a couple of weeks before.
3
Signage, Signage, Signage
Just like digital communication prior to the event is important, to me, it is more important that our print signage be very clear and have clear directions.
For example, our SALT team, is very familiar with the logistics involved with the conference schedule as well as the campus where the conference is being held.  During the planning process (typically 3 months prior to conference) our team takes a tour of the campus and our goal is to try and think like the attendee.  We think of all areas where they may park and how we direct them to registration.  During conference transitions, like moving from one building to another, we think about every area where an attendee would walk and how do we get them to their destination without them getting lost or frustrated.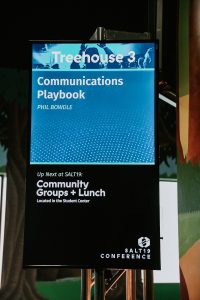 Another thing, to think about…. getting signage above the heads of your attendees.  I say this because I learned that your pop up banner looks great in an empty room but add 200 bodies around that sign and it becomes invisible.
So think about where signs need to go, and what will be happening in that space during different times of the conference.
4
Contingency plan for all parties involved
While we are good at making contingency plans for our purposes it is good to note that we have to also check with all parties on their contingency plans if, for example, rain comes into play.
For example, during SALT15, we were at Brentwood Baptist Church.  That particular year, our Community Groups were being held in Wilson Hall and the rooms were setup using the moveable walls, along with tables and chairs.  As we were going over the schedule with the church personnel it was brought to our attention that Wilson Hall was used as a rain contingency plan for the pre-school recess.  Obviously, with the proposed SALT setup that configuration would not work for a pre-school recess.  We looked at several options for recess venues but ultimately came back to the church needing that space in case of rain.  At that point we made a plan that would allow for extra volunteers to be ready to help assist the facilities staff in turning the room for the pre-school so they could do recess as well as help re-set the room for the community groups later that day.  The transition would have to happen quickly but it was doable because we were ready for it.  I am happy to report we never needed to use that contingency plan.
I bring this up because we can get very linear focused on contingency plans for our event, but what happens when the contingency plan of another group conflicts?  This is why we go through the schedule minute by minute to make sure we don't see holes or potential problems.
5
Get a photographer and make a shot list
Inevitably, you want some pictures from your event.  You will want to have pictures you can use for social media, for outreach or marketing.  SALT has been blessed with some amazing pictures and great photographers to take those pictures.  However, unless you have a shot list to give to your photographer you may miss out on some important moments.  We learned this the hard way when we needed a picture of a particular workshop speaker.  By creating a shot list your photographer now has a checklist of photos needed and they can concentrate on getting those in addition to the general event pictures
.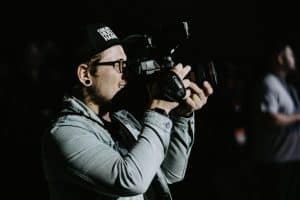 This has been the biggest game changer for us.  We now feel like we have what we need for all of our platforms from SALT Community to SALT Conference and SALT University and with the addition of SmugMug, we are able to tag our pictures to make finding what we want easier and share them with our speakers so they can use them in their media.
The list could keep going but I believe this list will help get you started on building your own arsenal of questions and thinking through the details of your event.  If you have something to share please feel free to share below and let everyone see.
Until next time!