As a church creative director, developing high quality video content can be difficult, especially on a budget. The reality is, most small to mid-size churches don't have the capital to spend tens-of-thousands on video equipment and stop spaces. But what if you could create an environment for a high quality video shoot under $1000?
My goal for this article is not to tell you the magic combination of cameras and lights to help you get the best looking interview. Although that may exists, you and I don't have the kind of money Hollywood has to make that happen.
Working under tight budget constraints, and often alone, I've developed a list of affordable equipment–and helpful tips–to maintain the visual quality we deserve as the Church. Obviously this list is a bit general, so it's important to know that I've narrowed this list of equipment for a high quality video shoot under $1000 to "talking head" video shoots. Assuming you already have a camera, here are three things you can use to take your video shoots to the next level (without breaking the bank!)
*If you don't have a camera, I recommend looking into DSLRs. Canon, Sony, and Panasonic all make very affordable high quality cameras. I encourage you research the options, then rent (from a LensProtoGo.com or similar site) a few times so you can see if you like it!
1. Use LED Lights.
For most interviews, LEDs give you the most versatility. They're easy to use, they don't get hot, and can easily change color temperatures. When it comes to video LEDs, the higher the CRI (Color Rendering Index), the better (and the more expensive they will be). CRI is essentially color accuracy. This is beneficial so that your camera interprets the image correctly.
A few recommendations on affordable LEDs to consider on a video shoot under $1000:
These are good and affordable LED kits. Their best use is for 3-point lighting. If you're unfamiliar with 3-point lighting, here is a brief explanation:
The Three Point Lighting Technique is a standard method used in visual media such as video, film, still photography and computer-generated imagery. It is a simple but versatile system which forms the basis of most lighting. Once you understand three point lighting you are well on the way to understanding all lighting.

The technique uses three lights called the key light, fill light and back light. Naturally you will need three lights to utilise the technique fully, but the principles are still important even if you only use one or two lights. As a rule:

If you only have one light, it becomes the key.
If you have 2 lights, one is the key and the other is either the fill or the backlight. (source)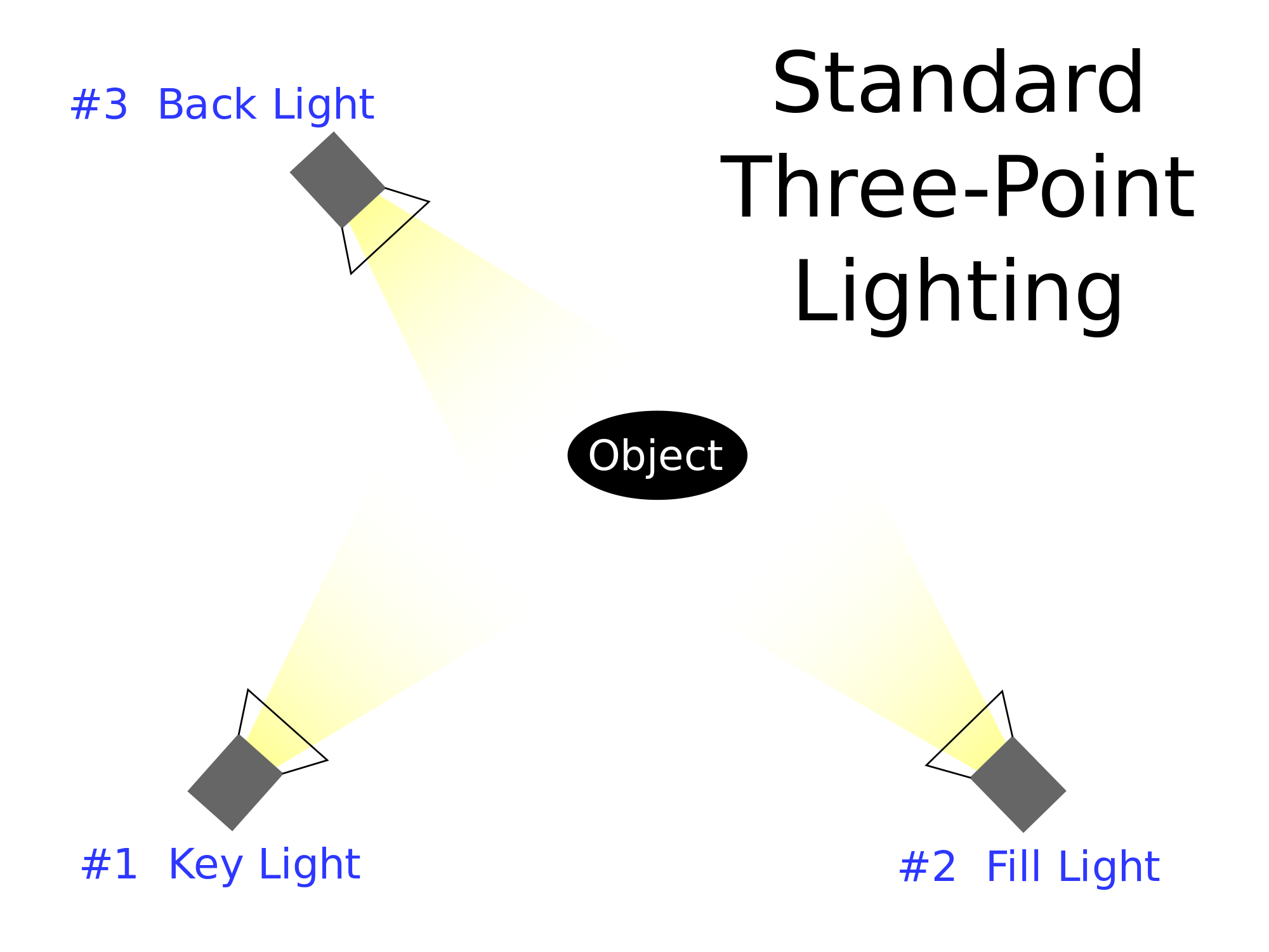 If you want something more stylized, you could spend money on just one high quality LED, as well as a C-Stand. This would give you the ability to mount directly above just like the I Am Second interviews as seen below. Place the LED directly above the subject, so you get very dramatic (but balanced) overhead lighting. This will also cause the backdrop to fall off and become black.
2. Use a Stationary Boom Microphone.
One thing that is often overlooked for interviews is setting up a boom mic. Since people like us are often a "one- man-show," it seems appealing to use a lavalier as a go-to method for capturing audio. Instead of doing this, setting up a stationary boom out of shot can give you higher quality audio. In addition to this, it's not visually distracting like a boom mic is (just watch your shadows).
Get a C-Stand and mount the boom mic on it.
A few recommendations on affordable Boom Mic's to consider on a video shoot under $1000:
Need a way to record Audio on-site? Here are a few nice options that won't break the bank for field-recorders:
3. Use whatever you already have. (The most important tip)
This is the most important tip, even though I love new toys, it's important to use whatever you already have. It's easy to buy into the ideology that you'll be a better filmmaker with the latest and greatest equipment. However, the better you get with what you have already, the higher the quality content you'll make when given the resources. This is essential as you build an environment for a video shoot under $1000.
It's easy to buy into the ideology that you'll be a better filmmaker with the latest and greatest equipment.
Click To Tweet
What do you have in your building that you can use to help you shoot higher-quality interviews? Most churches will spend more money on their A/V equipment for worship on Sundays than anything else. Use your resources. Maybe you have an RGB controllable LED stage light that can easily be moved. Try using this for practical or environmental lighting within your videos. You'd be surprised with the results you can get from doing so.
Another idea to consider is a technique called bounce lighting. See this example: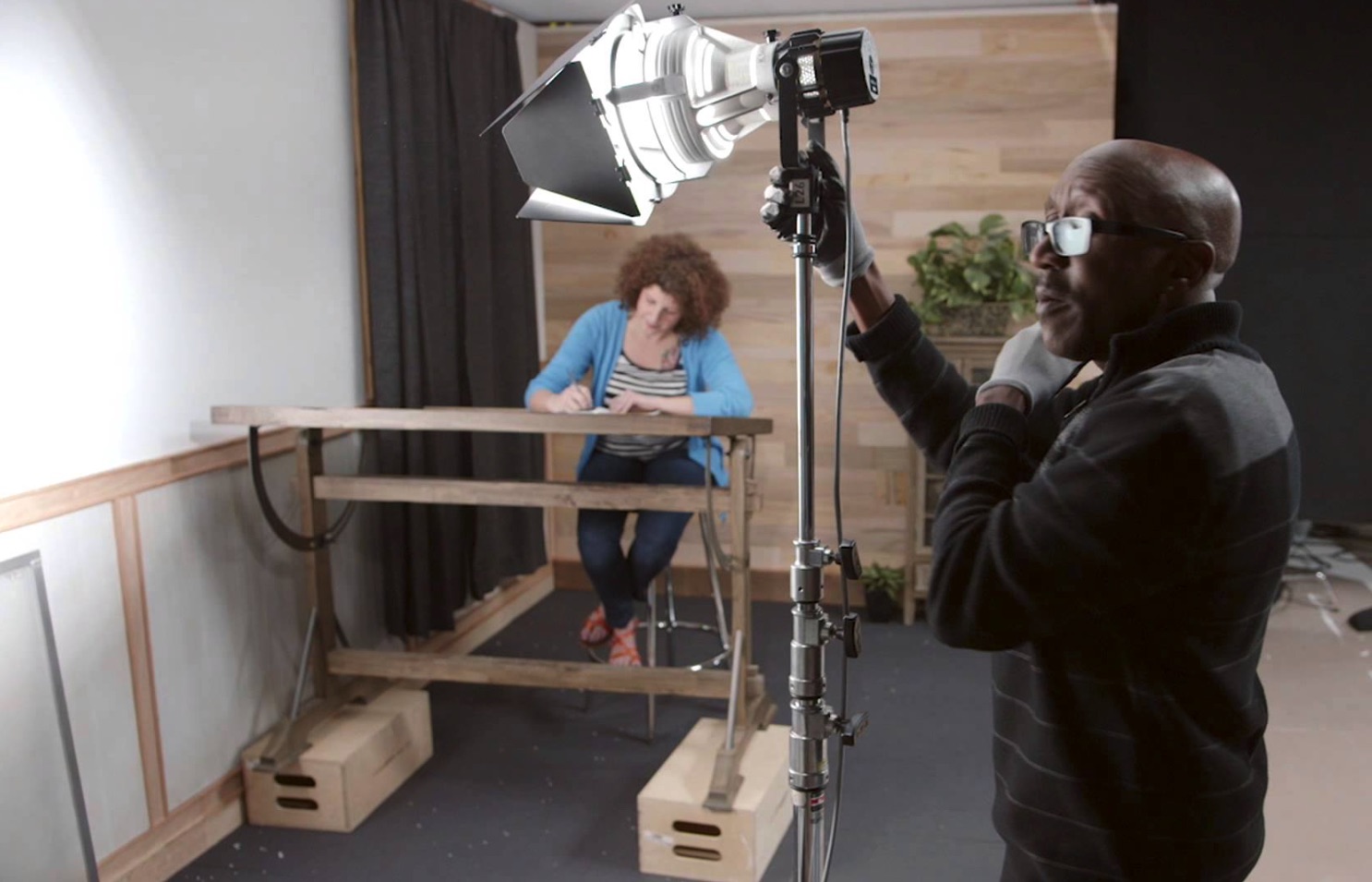 An inexpensive way to use bounce lighting is to go to your local hobby store and buy a poster board or foam core. You'd be surprised how well you can light a scene with just one light. (you can also use a wall or photography reflector, as long as it's stable)
As I wrap us up, below is a screenshot from a live music video I shot recently with only 3 lights. Although it wasn't an interview, the same techniques could apply to a dramatic sermon-series video, etc.. Two of three lights used were diffused fluorescent tubes that were used as lamps in the lobby, while the blue light on the background was an LED strip from the stage. In addition to that we used the fog machine they use on Sundays for worship just for a little atmosphere. Boom!
The result was a high quality video shoot, and I spent $0 on lighting / atmosphere. You can tell how far the "use what you have" tip can get you! Get creative, and start making high quality environments for a videos shoot under $1000!