I love Mother's Day, but not just because I am a mom (although there are perks for me on this day) but I love celebrating my mom and my grandmother. I remember the days when my dad would take me to the florist to pick out a corsage for my mom to wear to church. Did you do that? Maybe it was a "southern" thing but it was one of my favorite things to do.
Today church's have seized the opportunity to use special days like Mother's Day to incorporate a Photo Booth for families to grab a memory. So if you are looking for creative backdrops for Mother's Day that go beyond pallet wood (although I did add some ideas for that) check out some of these easy and budget friendly ideas.
Chalkboard Backdrop
Chances are you have some plywood around and with a little chalkboard paint and and someone that can draw or the addition of some cool signage you can create this cool setup.  SALT did chalkboard backdrops for our conference in 2014, they were made with 4×8 plywood.  We painted them chalkboard paint and then "seasoned or prepped" them with a coating of chalk to give them depth.

Greenery Backdrop
If you want something with a little more natural I would suggest the greenery backdrop.  The ferns and the boxwood look are simple but pretty and you can mix with flowers (faux or real) if you want to add a little more dimension.

Balloons
I wasn't sure if I would love the balloon idea because I thought it might feel too much like a birthday party but my mind was changed with these setups.  The balloon garland may seem complex but it really isn't hard to pull off (
here is a easy tutorial
).  Simple and cheap.

Dropcloth
There are multiple uses with drop cloth.  They can be painted, stenciled or sewn and drop cloth is inexpensive. Here are a couple of fun uses that might spark an idea or two.

Paper
Some other cheap backdrops for Mother's Day are the use of paper.  The muted paper chain backdrop is so simple that kids could put it together.  The paper fans and leaves may be a bit more time intensive but they make a beautiful backdrop for pictures (
here is a tutorial video
).

Flowers (Real or Faux)
Of course flowers should be considered when doing backdrops for Mother's Day.  Of course any of the previous ideas can be enhanced with flowers.  Here are a couple that are simple with use of a neutral backdrop or even a brick wall.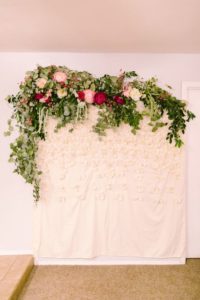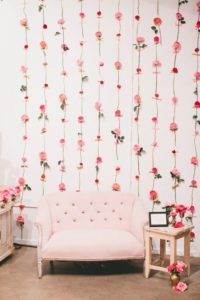 Pallets
Of course I couldn't do this list without using a pallet in some creative way because there is a great chance you have one or two lying around.  By layering the pallets with flower pots, a banner/signage or paper flowers you can create  a new backdrop for Mother's Day.  Here are some ideas that incorporate a mixture of items.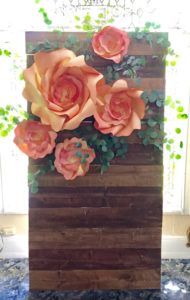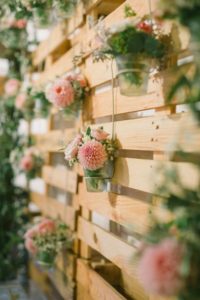 There are tons of ideas, and honestly I couldn't add all of them to this.  I would love to hear about some of your ideas and find out what your church is doing to create memories for your congregation on Mother's Day.