We get the honor to serve so many church organizations all around the world. So many of you are just tipping your big toe into the world of multi-screen and visual worship. You may have been to SALT Conference before, or just started learning about this stuff through the articles on sites like TripleWide Media, regardless if you're a veteran or just beginning, it's good to be reminded of the essentials of visual worship from time to time.
1. Font Color & Background Brightness.
Always be aware of the color background you're using behind lyrics. White lyrics are so common, sometimes we forget that there are a few backgrounds that need darker text.
It's tough on the eyes when we try to put a massive shadow, and we loose a lot of design hierarchy (directing where your eyes go) when we do that. So if the background is really bright, stick with a black or darker font color. If the background is naturally dark (which I find to be more common) stick with white text. Try and avoid too much saturation (color) in your font color choice.
2. Max of 4 Lines Per Slide.
I've volunteered in the youth ministry of my church for several years now. I know there's a part of you that wants to put an entire verse on your slides, so that your volunteers don't "miss" the lyrics. I work with high schoolers who never stop snap-chatting. But when we do this, we make it near impossible to close your eyes and worship, fully engaged. Because when you forget that one word, you have to strain to find the line you're on. Which inevitably causes you to loose that moment of worship. Our desire to make it "easy" distracted people from a powerful encounter.
My rule of thumb is keep your text limited to 4 lines per slide. Always. There should never be an exception to this rule. It keeps slides palatable for people to find the lyrics, and doesn't require your volunteer to miss every other line of text if they're behind. This is one of the most important essentials of visual worship!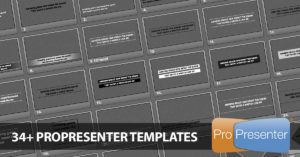 EXCLUSIVE BONUS:
Need some assistance with your slides?  Here are 34+ templates and lower thirds.  Free download, click here.
3. Design Slides with Great Margin.
So much of the essentials of visual worship are about the practicality for people to engage with the lyrics on screen, so they can worship unhindered. But if it's impossible to read, then we haven't accomplished our primary task. Great design has great white space, directing the eyes to the most important part of the element. This is accomplished by having great margin in your slides. Most designers recommend 10%, however in worship I recommend 15% on all sides. This allows for a useable space of 70% in all directions and sets you up for great white space and clean layouts.  In addition to white space, using Emphasis on certain words can help too.  Here is a great video with SALT's Creative Director, Sarah Linebaugh, talking about using Emphasis in your design.
4. Match Media to Tone & Emotion.
Lastly, it's critical to not just limit your visual worship to having two elements: text and a background. I know we call motions and stills as "backgrounds" a lot, but they play such a bigger role in crafting an atmosphere for worship. They bring in texture, speed, color and energy into a worship set. When you make sure the media matches the tone and emotion, you have an opportunity to use creativity as a vehicle to help people encounter the spirit in a deeper manner.
Don't miss the opportunity to make your functional slides as another musical instrument adding depth to your worship services. Lets begin to pursue excellence and do more with less in our creative elements. The cost of doing too much, or not thinking enough about the intentionality of our media and slides is a chance of missing an opportunity for transformation.
If this is a topic that interests you, and you'd like to continue to learn more or meet others who are interested in this same topic, I'd highly recommend you check out the SALT Conference.
We're proud to support the team at SALT Conferences and hope you've learned a bit more about the essentials of visual worship through this posts and similar ones.