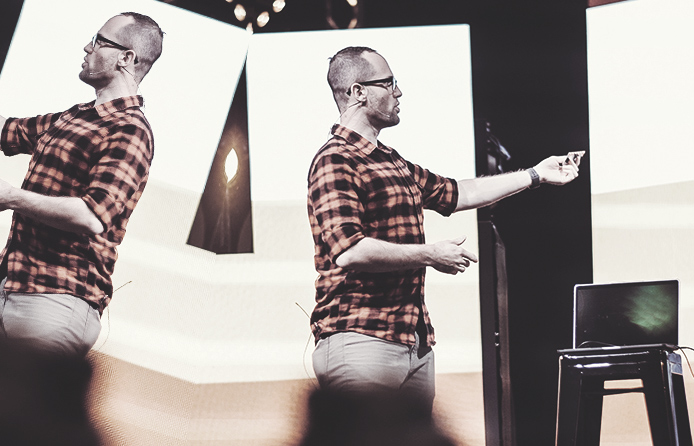 Every year at SALT Conference, our workshops are the highlight for every attendee. Practical, engaging and inspirational as you make the most of your team, your gifts and your opportunity to impact Someone's Sunday. 
This year, we are expecting to have 30-40 workshops (on Leadership, Communications, Personal Growth, Creative Process, Communications, Technology, Story/Film and Worship).  Here is a sample of 15 (of the over 30) classes we are going to be having at SALT18.
Remember, this is less than half of what we're going to have! Join the email list if you want to know when we launch more.
The Future Of Wireless Microphones (Panel)
In 2017, everything changed for Wireless microphones. The FCC sold off specific bands of certain wireless frequencies that affect wireless microphones. IN this panel we'll look into how this affects the church, and how we can get ahead of the changes, while saving money and creating solutions that can stand the test of time.
Avoiding Burnout & Leading Creatives Well
Burnout. It's almost inevitable these days with the massive amounts of tasks we have to accomplish in a given period. In this class, Dr. Andrew Johnston will walk you through the practical insights on how to avoid burnout. For those who lead creative teams, this class will also help you to create environments that allow your team to thrive!
Finding 'Someone': Online Ads for the Church
The world is our mission field, and with the tools of Facebook, Google AdWords and other online advertising communities, you can now reach all of them. In this class we'll uncover the secrets of finding people using online advertising. You'll be amazed how you can save money and still be effective.
Getting Started with Video & Animation)
The beginners video bootcamp for filmmakers in the church. As we uncover the principles that make some of the best films, you'll walk away with practical and tangible ways to become better at video from animation to editing and everything in between. Perfect for someone who is just getting started.
Leveraging Social Media to Grow Your Online Presence
Social media allows you to continue the conversation started on Sunday all the way through the week. Don't let your impact stay within the one hour of the week, and instead being to seize the remaining 167 hours by building an online community through your social media platforms.
Avoiding Unrealistic Expectations from Leadership
Do you ever feel like your boss or pastor has unrealistic expectations for your role or your position? As we walk through the common tendencies that create this, we'll find helpful ways to avoid this trap, and help you step into the fullness of your true potential in creativity.
Automating Your Lyrics with Ableton
What if your lyrics would auto advance with your multi-tracks rig? How amazing would it be if you never had to worry about a lyric being "behind" the music? In this class, we'll look at the practical application of using Midi, IP and other open source technologies to automate our lyric system with a software like Ableton to accomplish this task.
How To Build & Sustain a Thriving Volunteer Ministry
Unless you have a massive budget to pay a full-time staff member for every position in your creative arts team, then odds are good your rely on volunteers to make Sunday happen. Come learn some ready-to-implement tactics to build and sustain a thriving volunteer ministry from the person who wrote the book on recruiting and retaining great volunteers.
Lighting & Stage Design… on a budget
Come learn the foundations of great stage design and lighting, and see how you can save money while maintaining a "wow" factor. This is a great class for anyone who is just getting started, or about to launch a new service or campus.
Rethinking Your Church Communications Strategy For Better Response
Communications is one of the biggest challenges for every church. We create a lot of stuff, but can't see what's really helping to create movement. Learn how to rethink your view of church communications to focus attention on the right things at the right time, work more effectively work across departments, shift conversations from what to why and help every stakeholder see how they can make the whole church better, not just their ministry. Your audience will thank you for it.
Someone's Slides: Designing Better Slides for Worship & Announcements
From lyrics to announcements, sermon graphics to countdown videos, your screens are some of the most powerful tools in your worship environment. We'll uncover the basic design principles that every church can use to increase the effectiveness of these large surfaces. We'll also walk through practical ways to refresh the look and feel of your environments without having to reinvent the wheel over and over!
The Process: Recording & Releasing a Worship Album
In this class, we'll sit down with the songwriters, producers and distribution team from The Belonging Co to see behind the scenes on their entire process of releasing the widely successful All The Earth album. You'll leave with tips on creating a great songwriting retreat, how to record an album live and ways to get your church's songs on Spotify, iTunes and even printing real CD's! (I know, who does that?)
The Art of Interview: Story Through Film
Studies show that film (and video) is among the most powerful story telling mediums in the 21st century. Come see why this is the case and how you can leverage this powerful medium to tell captivating and life-transforming stories to your community. Through the format of interviews, you can invite people into the amazing God-stories that are happening in your community.
The Role of Fear & Faith in the Creative Process
Is fear something that paralyzes your creativity? or is fear something you use as a catalyst of your creative giftedness? In this class we'll look at the creative process and how fear and faith can become activators of the God-given calling within you and help you make more of an impact within your community.
Creating a Digital Campus: Streaming Church in 2018
Christ's Church has begun creating a digital campus for their church, and it's had incredible success. Come hear their story as the Lead Pastor and Global Integration Pastor show their system, strategy and help you see how you can implement a system in your church. A few thing's we'll cover: How to get free money on Google AdWords, How to get statistics on the success of your platform, and the model of creating an online community through conversations, home churches and digital pastors.
Get alerts for when we post additional speakers, by joining our mailing list below:
SaveSave